Write What You Know
By Avery Daniels
As a writer you often hear "write what you know." I'm not a lawyer, so no legal mysteries, nor a doctor for medical thrillers, or a police officer, private investigator and so on. But I grew up with a five star resort (The Broadmoor) in a town that was a part of my youth and ingrained in my memories.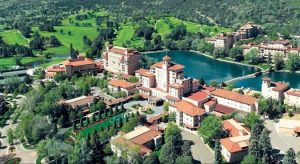 During its sixty some years in operation, the resort's ice arena was the training ground for World and Olympic champions, the site of hockey games, ice shows, and curling events, five World Figure Skating Championships, six U.S. Figure Skating Championships, and three National Sports Festivals.
But back in my pre-teens and teen years, the resort rink would hold the glamorous Ice Revues there every year and my mother took me regularly. I saw Dorothy Hamill, Robin Cousins, Brian Boitano, and of course Scott Hamilton with his stunning back flip on the ice. Sadly, the rink was torn down in 1994 to make way for expansion of the resort's main facilities.
The Broadmoor played into birthday celebrations at the restaurants, holiday brunchs, and company holiday parties there. But I also remember the "lake" that is behind the historic original hotel. It has changed over the years, but I remember saving up dried bread scraps and going to the lake to feed the ducks and swans. They were so tame, they could tell who had food and would flock to you. Back then, there was a tiny little island that the birds stayed on year round. You could rent a canoe and paddle around the island and the birds would swim behind you waiting to be fed.
One year the Broadmoor was hosting the Ladies Professional Golf Association Championships and my employer gave away a ticket to attend all day, with a lunch in the skybox overlooking the 18th hole, plus the day off paid. That was another day that I cherish in my memories. Plus, my one and only time skiing was at the old ski run behind the resort on the mountainside.
The Broadmoor is part of local history as well. The "a" in the name is branded always smaller than the other letters because Spencer Penrose, a wealthy local venture capitalist and investor who built the resort, was refused service at the Antlers hotel (still around too) when he had been to his mining interests and returned too dirty. As soon as the Broadmoor name was to be registered, Penrose had the "a" smaller to be a reminder to not refuse service because of appearance.
The Broadmoor turned one hundred years old this year. The birds aren't as plentiful any more, the island in the small lake is gone, the canoes are replaced with paddleboats, and the ice rink and ski runs are gone. But I still love going to the restaurants or the theater on the grounds.
Is it any wonder when I was going through what I knew enough about to incorporate into a mystery series that I thought of a five star resort? Of course, in my Resort to Murder series it is named the Colorado Springs Resort and will have several books placed in other resorts as well.
The second book I placed at a luxury ski resort in Vail, CO, which was loosely based on the amazing Bavarian themed Sonnenalp Hotel. Friends have accused me of picking the resort theme because of the research I will be forced to do (wink, wink). But I'm not confessing to anything.
How about you? Is there a special place that holds many memories for you like that? Maybe just one really cherished memory?
RESORT TO MURDER series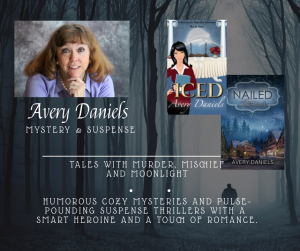 ICED
Amazon B&N Kobo iBooks IndieBound
NAILED
Amazon B&N Kobo iBooks IndieBound
About the Author
Avery Daniels was born and raised in Colorado, graduated from college with a degree in business administration and has worked in fortune 500 companies and Department of Defense her entire life. Her most eventful job was apartment management for 352 units. She still resides in Colorado with two brother black cats as her spirited companions. She volunteers for a cat shelter, enjoys scrapbooking and card making, photography, and painting in watercolor and acrylic. She inherited a love for reading from her mother and grandmother and grew up talking about books at the dinner table.