What can you say about a year that's a Dog in the Chinese calendar? Whose Pantone color of the year kinda looked like a smushed plum?
Thank goodness 2018's over?
The year was the pits in too many ways, with too many people focused on the things that divide us rather than looking for common goals, values or ideas. So today, I want to focus on the good stuff.
2018 held wonderful times for my family – a wedding, a new baby, and I chose to retire early from a career I've enjoyed for years. All of these are thresholds to new adventures, new stages of life.
I can't wait to see what 2019 holds – even if it's the Year of the Pig, because the color is Living Coral.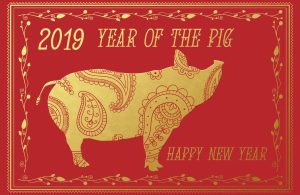 What about you? What was the best thing that happened during 2018?