By Jacki Delecki
In my new military romantic suspense series, The Impossible Mission, Delta Force operatives fight not just for their country but to win the hearts of the women they love. This team is highly trained, and incredibly loyal—as seen in book one, MISSION: IMPOSSIBLE TO RESIST. Aiden Foster takes on a short assignment as a bodyguard to fulfill a promise to a friend. Jordan Dean is nothing like the high-value assets he's protected before. The beautiful, intelligent researcher ignores his directives, and challenges him in ways he never expected. And, at six foot six, Aiden doesn't blend in to the background like bodyguards are trained to do.
In book 2 of the series, MISSION: IMPOSSIBLE TO SURRENDER, out on February 21st, Finn Jenkins will do whatever it takes to keep Sophie Dean safe. For Sophie, trusting her best friend Finn as her bodyguard is easy—it's trusting him with her heart that she's not so sure about. Whoever thought guarding bodies could prove so difficult?
When writing these books, I did some research on professional bodyguards. Here are five facts that surprised me.
Not all bodyguards are armed. One expert explained that a bodyguard's best strategy is to remove the person they're protecting from dangerous situations, not fight off attackers.
TMZ.com is a great source for news about celebrities. Some protection specialists use TMZ.com for information about which celebrities are uncooperative with their bodyguards or who's having trouble and might be in need of services.
Social media makes their job harder. Celebrities and entertainers can inadvertently expose themselves to risk by sharing personal information that reveals travel schedules, upcoming appearances and details about their routines and private life. Professional bodyguards often monitor clients' social media accounts to identify and minimize risk.
No glitz and glamour for bodyguards. Protection specialists are often part of a luxury lifestyle, but they are not living that lifestyle. Their job might include international travel on private jets to exotic locations, but they are there to do a job, not enjoy the amenities.
Bodyguard is not their preferred title. Professionals don't refer to themselves as bodyguards. The preferred term, according to the president and CEO of a company that provides such services, is "executive protection agents."
I have huge respect for anyone who puts themselves between danger and others, but I'm sticking with "bodyguard." Executive Protection Agent just doesn't have the same allure.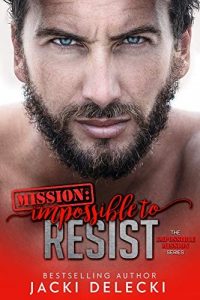 MISSION: IMPOSSIBLE TO RESIST
Book 1 in the Impossible Mission Series
Available October 18, 2018
Amazon | Nook | iBooks | Kobo | Google Play
MISSION: IMPOSSIBLE TO SURRENDER
Book 2 in the Impossible Mission Series
Available February 21, 2019
Amazon | Nook | iBooks | Kobo | Google Play
About Jacki Delecki
Jacki Delecki is a bestselling romantic suspense author whose stories are filled with heart-pounding adventure, danger, intrigue, and romance. Her books have consistently received rave reviews, and AN INNER FIRE was chosen as an Editor's Selection by USA Today. Currently, she has three series: the contemporary romantic suspense Impossible Mission, featuring Delta Force operatives; Grayce Walters, contemporary romantic suspense following a Seattle animal acupuncturist with a nose for crime; and the Code Breakers, Regency suspense set against the backdrop of the Napoleonic Wars. Delecki's stories reflect her lifelong love affair with the arts and history. When not writing, she volunteers for Seattle's Ballet and Opera Companies, and leads children's tours of Pike Street Market.
Website:  http://jackidelecki.com/
Newsletter:  http://bit.ly/2D7yoFt
Facebook:  https://www.facebook.com/JDelecki/
Twitter:  https://twitter.com/jackidelecki
Book+Main Bites:  https://bookandmainbites.com/users/20961
Bookbub:  https://www.bookbub.com/authors/jacki-delecki
Amazon Author Page:  https://www.amazon.com/Jacki-Delecki/e/B00G9BC9YE/
Goodreads:  https://www.goodreads.com/author/show/7394357.Jacki_Delecki