If Only: The Challenge Writing
A guest post by Elena Hartwell
People often talk about how hard it is to be a writer. And it's true, the challenge of finishing a novel, with no way to know if it will ever be published. The publishing process itself, with endless rejections and the excruciating time period between the "yes" from the publisher and the book on the shelf. Then comes a new round of trials, the reviews, the sales, the stars on Amazon.
These are all difficult experiences to get through, but they may not be the hardest part about being a writer. In a lot of ways, the hardest part about being a writer is that no matter how much success you achieve, it's never enough.
A writer friend and I were recently having a discussion about what success looks like. A bigger publisher? Higher sales? Awards? Bestseller lists? We didn't come up with a very good answer. We both agreed being able to write the books we want to write and having them published and available to the public was a wonderful accomplishment . . . and yet . . .
One of the intriguing things I have discovered talking to writers over the years is that no matter what they have achieved, they often say, "if only …" If only I had a better agent, a better contract, more translations, higher sales, if only I'd won the award instead of just the nomination.
Even award winning authors on bestseller lists, whose high figure contracts are with big five publishers have the "if only …" complex. If only I had sold another million copies . . .
The hardest thing about being a writer may be that every day we sit down in front of our computers and work on something new and wonder . . . if only. If only I can finish this, if only I can sell this, if only . . .
When your first book launches, everyone asks, when is the next one out?
When your series is out, everyone asks, when will they make it into a movie.
When you get the award nomination, everyone wants to know if you won.
When you win the award, everyone wants to know . . . if only.
My advice for all of us, myself included, is to savor the moment. Enjoy the success you have. You earned it. Love what you're writing. Don't lose sight of why you sat down in the first place to explore Once Upon a Time. Stay true to yourself no matter how many "if onlys" you still have on your list.
Write like there's no one waiting on it but you . . . if only.
Author Bio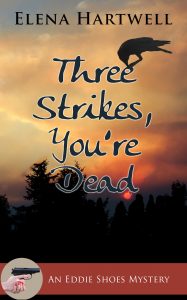 Elena Hartwell is the author of the Eddie Shoes Mystery Series.
The third book, Three Strikes, You're Dead, launched April 1, 2018. Eddie Shoes and her sidekick, and mother, Chava, head to beautiful Leavenworth, Washington, for a much needed vacation. But a dying man, a missing woman, and a forest fire soon get in the way.
For more information about Elena and where to find her books, visit http://www.elenahartwell.com