1885 Florida: wild pigs, wild people, and Trouble in Tampa!
Guest post by Louise Titchener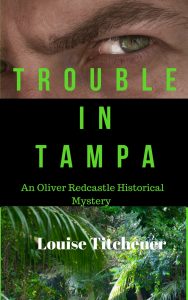 For several years now I've been going on thrilling adventures with a Civil War Veteran! It's been an exciting journey with Oliver Redcastle. We've shared breathtaking exploits in Baltimore, Lake Erie, and now the wilds of Florida.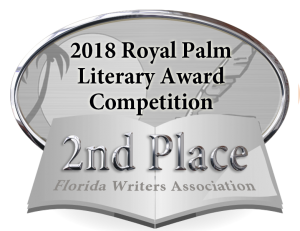 Trouble in Tampa, the 4th in my Oliver Redcastle historical mystery series, just won a Royal Palm Award from the Florida Writers Association. Oliver is an ex-Union Army sharpshooter and ex-Pinkerton investigator. In Trouble in Tampa he goes to Florida in 1885 on what he thinks will be an easy missing person case. Wrong!
Florida in 1885 was a fascinating place and just as wild as the fabled "Wild West. Self-styled bands of "Regulators" roamed the countryside. People they considered "troublemakers" could disappear, never to be heard from again. Oliver Redcastle is definitely a troublemaker.
On the other hand, 1885 was the year Henry Plant brought his railroad to Tampa and changed the town from a sleepy fishing village to a major metropolis. When I learned that William Walters, a 19th century Baltimore tycoon, invested in Plant's railroad, I knew there was a Florida story brewing for my Baltimore detective. I decided he would meet a former colleague in Tampa, Hannah Kinchman, a daring detective in her own right, working for Pinkerton. She and Oliver would clash, but they'd also back each other up.
Figuring out the rest of the plot meant more research into Florida history I learned that Oliver would meet people in the Florida wilderness with unusual stories. My beleaguered protagonist, Oliver, would also find himself captive in a Turpentine Camp, doing hard labor and surrounded by mortal enemies and ferocious mosquitoes.
I had a great time writing this novel. I learned about my new home, and did it while having a wild ride through a bygone era in what was, and is, a remarkable state. Check out my book at Amazon for a wild reading ride of your own.
About the Author
Louise Titchener is the author of over forty published novels in a variety of genres. She has two mystery series available on Amazon and Smashwords. Her Toni Credella series is set in Baltimore and features a dyslexic female sleuth.
Her website url is: http://www.histrymysteries.com. Her twitter handle is @histrymysteries. Her facebook author page is https://www.facebook.com/histrymysteries/