I visited with Mary Martinez and the After Work Cook during a special series of Christmas memories. For my contribution, I shared my mom's gingerbread cookies.
Grandma Dot's Gingerbread Men
Ingredients:
| | |
| --- | --- |
| 1 c. | Packed brown sugar |
| 3 | Eggs |
| 1 c. | Margarine, softened (butter-flavored Crisco) |
| 1¼ | Molasses |
| 1 tsp. | Salt |
| 1 tbs. | Baking soda |
| 1 tsp. | Cinnamon |
| 1 tsp. | Ground allspice |
| 1 tsp. | Ground cloves |
| 1 tbs. | Ground ginger |
| 3 c. | All-purpose flour (plus 5-6 c.) |
| | 8" gingerbread man cookie cutter (Grandma Dot: I usually use smaller size.) |
Directions:
In large bowl with mixer at low speed, blend all ingredients except the 5-6 cups flour until just mixed, scraping bowl with rubber spatula.
Increase speed to medium and beat 2 more minutes, scraping occasionally.
Using wooden spoon, stir in additional 5-6 cups flour to make a stiff dough.
Divide dough in half and wrap in plastic wrap. Refrigerate up to 2 days.
Preheat oven to 350o On lightly floured surface roll half the dough until ⅛ – ¼" thick.
Cut cookies and transfer to lightly greased cookie sheet.
(Grandma Dot: We decorate at this point with raisins or currants for eyes, candy cinnamon hearts for mouths, etc.)
Bake approximately 12 minutes until edges are firm.
Cool slightly. Remove to wire rack to cool. (Grandma Dot: If you use frosting to decorate, wait til this point.)
---
Memories
One of the reasons I love these cookies is the memory of my mom making them with my children and nieces.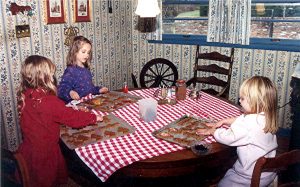 Family—the importance of family—is a constant theme in my stories. Holly Price took a leave of absence from her Seattle based career to help her mother run, and ultimately sell, the family business.
Of course, Holly runs into trouble she never expected. With the latest installment in the series, IN IT FOR THE MONEY, her cousin's troubles have crossed into her professional life, and added a new wrinkle to her relationship with JC.
IN IT FOR THE MONEY
Holly Price traded professional goals for personal plans when she agreed to leave her high-flying position with the Seattle Mergers and Acquisition team and take over the family accounting practice. Reunited with JC Dimitrak, her former fiancé, she's already questioning whether she's ready to flip her condo for marriage and a house in the 'burbs.
When her cousin Tate needs investors for his innovative car suspension, Holly works her business matchmaking skills and connects him with a client. The Rockcrawler showcasing the new part crashes at its debut event, however, and the driver dies. Framed for the sabotage, Tate turns to Holly when the local cops—including JC—are ready to haul him to jail. Holly soon finds her cousin and client embroiled in multiple criminal schemes. She's drawn into the investigation, a position that threatens her life, her family and her increasingly shaky relationship with JC.
Universal Link – http://books2read.com/InItForTheMoney
AUTHOR BIO
An award-winning author of financial mysteries, Cathy Perkins writes twisting dark suspense and light amateur sleuth stories. A contributing editor for International Thriller Writers' The Big Thrill, she also coordinated the prestigious Daphne du Maurier contest.
When not writing, she does battle with the beavers over the pond height or heads out on another travel adventure. She lives in Washington with her husband, children, several dogs and the resident deer herd.
Sign up for her newsletter on her website (over there on the right) or follow her on BookBub for new release announcements. (Follow me! https://www.bookbub.com/profile/cathy-perkins )
---
Visit the The After Work Cook here – https://theafterworkcook.blogspot.com/2018/12/guest-cook-cathy-perkins.html