Fellow mystery author Kathleen Rowland joins us today, celebrating the release of a new book, Unholy Alliance, book 2 in her Irish-American series with Tirgearr Publishing.
Jacket Copy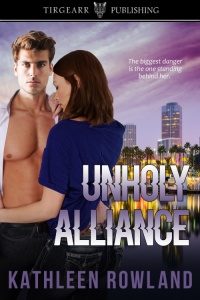 The worst happened. Her cousin is still missing. Just released from jail for a murder she didn't commit, this is thanks to attorney. She has no clues. No destination. Just fear for the cousin she believes is held captive by a ruthless killer.
What if Tori were to park a food truck in the seedy waterfront neighborhood where the mob operates and hunt for this sadistic killer? Grady must protect the strong woman he's come to adore. With emotions on a knife edge, Tori runs on instinct, on the desperation of affection between cousins. With adrenaline pumping, this is it. Tori identifies an island hideout, but Grady warns her to anticipate who her cousin is now.
Book buy links
http://www.tirgearrpublishing.com/authors/Rowland_Kathleen/unholy-alliance.htm
Excerpt
"Don't let the anxiety of freedom consume you." Attorney Grady Donahue Fletcher clenched his teeth and rehearsed what he'd say to his client, Victoria Morningstar. He'd won her appeal and drove to pick her up at Gladstone Penitentiary. "At least you won't be placed in solitary." That was worse.
Six months earlier Grady had phoned a reporter at the Los Angeles Globe. "Drew Barker. Grady Fletcher here."
"Ah, the lawyer. Calling about a tip?"
"I am. Here's something you can investigate. Tori Morningstar, did she murder Irene Brennan?"
"I wrote that story many years back," the journalist had said. "I assume you have new discoveries."
"Fraud, illegal testimony. Do you want the story first?" A second passed. "Otherwise, I'll call the Orange County Guardian."
"Okay, okay. We want it."
Three days later Grady had a hand in writing the first article in Drew Barker's column. "The public labeled Tori Morningstar as an undesirable. Not black and poor, but disfavored, accused, incarcerated, and wrongly condemned. Her cellphone has been recovered. Her call to 911 identified her voice and substantiated screams of the victim in the background. Could she have beaten someone while speaking to dispatch at the same time?"
The reporter had written the second article. "People who get their ideas about criminal lawyers from TV probably would be disappointed in Grady Fletcher. He lacks flash but stands up straight, his posture neither ramrod nor slouched. He doesn't smoke, doesn't wear thousand-dollar suits. His voice is soft and low, one of his assets. He speaks truth with a voice inviting confidences."
As nice as that was, Grady's stomach cramped over pressure and strain from Drew Barker's final article with the headline, Tori Morningstar, Released Today. Picked up by the online service, Newser, KTLA, and CBS Los Angeles, they planned to broadcast his arrival to escort his client from Gladstone.
Tori's decade-long prison sentence ended today but with a sobering fear over tomorrow.
When was a July morning this hot? Grady balanced her release papers on his lap as he rolled up one sleeve then the other while gripping the damp steering wheel. Sweat blossomed on his throbbing forehead, wrapped like a python's grip. He adjusted the dial for the AC and embraced the challenge of helping another client get back on track. Embrace and conquer. Or at least sound like it.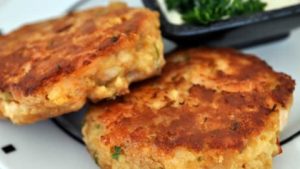 Would you enjoy a summertime recipe from Kathleen?
Crab Cakes!
Yum!
| | |
| --- | --- |
| 1 pound | crabmeat (I used 8oz backfin & 8oz claw) |
| ⅓ cup | crackers (crushed, I used ritz) |
| 3 | green onions (finely chopped) |
| ½ cup | red bell pepper (finely chopped next time i will use less) |
| ¼ cup | mayonnaise (I used the brand that is made with olive oil) |
| 1 | egg |
| 1 teaspoon | worcestershire sauce |
| 1 teaspoon | dry mustard |
| ½ | lemon (juiced) |
| ¼ teaspoon | garlic powder |
| 1 teaspoon | salt |
| 1 large pinch | cayenne pepper (I used) |
| add | flour (sifted for dusting) |
Dice vegetables small and add all ingredients together. Chill them for a least a few hours so they will hold together better. as always add to your liking you might consider onion powder or Old Bay about 1-1 1/2 Tbsp. or maybe go Cajun.
Crab meat has a lot of liquid in the container so I did let it drain. I did not want to add an extra egg or more crackers or bread crumbs or even panko if that is what you have on hand.
If you don't like to fry, bake them in 375 oven turn them after 20 minutes bake another 20 or 25 minutes approx. make sure you spray or wipe some oil on whatever pan or foil you are using.
Tartar sauce is an easy topping or just lemon wedges.
About the author
Book Buyers Best finalist Kathleen Rowland is devoted to giving her readers fast-paced, high-stakes suspense with an erotic love story sure to melt their hearts. Her latest release is One Night in Havana, #34 in the City Nights series. See Kathleen's most recent books here: http://www.tirgearrpublishing.com/authors/Rowland_Kathleen
Kathleen also has a steamy romantic suspense series with Tirgearr Publishing, Deadly Alliance is followed by Unholy Alliance. Keep an icy drink handy while reading these sizzling stories.
Kathleen used to write computer programs but now writes novels. She grew up in Iowa where she caught lightning bugs, ran barefoot, and raced her sailboat on Lake Okoboji. Now she wears flip-flops and sails with her husband, Gerry, on Newport Harbor but wishes there were lightning bugs in California.
Kathleen exists happily with her witty CPA husband, Gerry, in their 70's poolside retreat in Southern California where she adores time spent with visiting grandchildren, dogs, one bunny, and noisy neighbors. While proud of their five children who've flown the coop, she appreciates the luxury of time to write.
If you'd enjoy news, sign up for Kathleen's newsletter at http://www.kathleenrowland.com/
Catch up with her on Twitter Facebook Blog