Thank you so much for sharing this blog exchange, Cathy. I hope when your readers finish here they'll go on over to "Deeds of Darkness; Deeds of Light" and read your post there. When you mentioned that you write contemporary mysteries I responded that I would be happy to exchange with one of my "contemporary" mysteries. That has certainly given me pause to think—with some alarm—on how fast time goes.
The Flame Ignites is, indeed, my newest re-release in my Elizabeth and Richard literary suspense series—which is, actually, a contemporary series that I am currently in the midst of re-editing and re-releasing. But, oh, my goodness—I first wrote that manuscript in 1984. I wonder how many of your readers were even born then? And the letters which form a significant part of the background, go back to 1979.
These mysteries (which do come up to the present time) feature Elizabeth and Richard, literature professors cum sleuths who find themselves enmeshed in mystifying murder as they explore the lives and works of such literary greats as: Rudyard Kipling, Elswyth Thane, Dorothy L Sayers, Shakespeare, and Jane Austen.
For The Flame Ignites, it is October 1984, the New England hillsides are ablaze with redgold autumn. Elizabeth is beginning her academic career and recently widowed Richard is stuck in the family business. They should be able to help each other but their meeting strikes sparks and raises old ghosts, possibly even the ghost of Richard's dead wife. When Elizabeth finds an academic coup within her grasp for her thesis on the beloved American novelist Elswyth Thane, Richard stubbornly throws up barriers, but why? Rudyard Kipling, William Beebe, Charles Lindberg, Edna Ferber and a host of celebrities from an age past fill the pages of Elswyth Thane's letters, but where is Elizabeth to find clues to the mystery haunting Richard?
A nostalgic return to an earlier, now-vanished time, The Flame Ignites evokes a long-distance relationship between a young woman just testing her wings and a celebrated American novelist, incorporating actual letters to the author. But what about the smoldering relationship between Elizabeth and Richard?
Like my heroine, I was unable to visit Elswyth Thane, my literary mentor, during her lifetime, but in 2014 I was able to visit her home in Vermont during a blazing autumn, put flowers on her grave as Elizabeth did, and visit Rudyard Kipling's home as Thane had described it in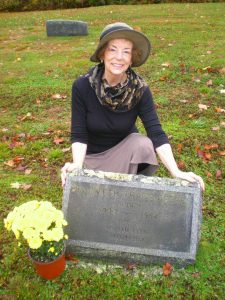 her letters.
Donna Fletcher Crow authors 3 mystery series: The Monastery Murders, Lord Danvers Investigates Victorian True-Crime, And Elizabeth and Richard Literary Suspense. She is also the author of The Daughters of Courage pioneer family saga, the Where There is Love series set in 18th and 19th century England, and the Arthurian epic Glastonbury.
For more information you can receive a free book, learn about all her books and see pictures of her research trips and pictures from her garden on her website, visit her
blog, and subscribe to her newsletter; follow her on Facebook; and Twitter.
All of Donna's books are available on her website or through Amazon.