I originally planned to post this piece earlier this summer when a friend said she was "moving house." While it's not what we'd call it – we'd simply say "moving" – the term stuck with me since we're literally moving a house. Well, it's an old log cabin, but let's not get too technical.
When we bought our property in the mountains, it came with an assortment of fallen or tumbling down barns, sheds and cabins. Thousands of pounds of debris later, we're close personal friends with all the people who work at the county dump.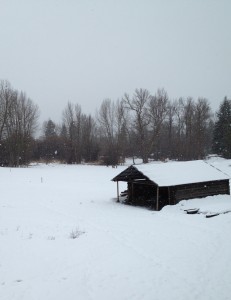 We're down to the last barn standing. Snow banked against the lower tier has made at least one log rot, so the building lists precariously. Having grown up in the South, I was used to older buildings and loved the charm of Charleston where the building age has crossed the 300-year threshold. (Okay, those of you in Europe quit laughing. Three hundred is old over here.) It was a shock to find that out here in the west, a building that's a hundred is a rarity. So we wanted to preserve the cabin if we could.
Unfortunately the cabin occupied the prime high ground (big surprise, right?) where we wanted to build our house. We'd learned with some of the other buildings we'd constructed that anything over 200 square feet required a permit. Off we went to chat with the building department about what moving the cabin would require.
Here's the gist of that conversation(s):
Us: We'd like to salvage this historic old barn but weren't sure about the building requirements.
Building dept: If you take it apart (and treat the logs so they are less likely to rot) and move it, you have to bring it up to code.
Us: It's a barn. Like stacked Lincoln logs.
BD: Yes.
Us: So what does code mean? (How in the hell do you bring a stack of logs to code and who wrote code for them in the first place???)
BD: You have to have engineered trusses and …
Us: Whoa, whoa, whoa. What would we put the trusses on?
BD: You'd have to build a structure to carry the beams and trusses and you'd need an engineering analysis that the roof can support the snow load.
Us: It's been standing for over 100 years. Apparently it can handle the snow load.
BD: But it MIGHT collapse. So you'd have to bring it up to code.
Us: Wait, you said "if" we take it apart. Is there an alternative?
BD: If you pick it up intact, you can move the barn, but you have to have a building permit to put it down. An analysis of the foundation and footings. And to issue the building permit, we really need an engineering analysis of the foundation and whether the roof…
Us: What if it falls apart when we try to pick up a stack of logs?
BD: Then you'd have to apply for a building permit to put it back together. Bringing it up to code.
Head. Desk.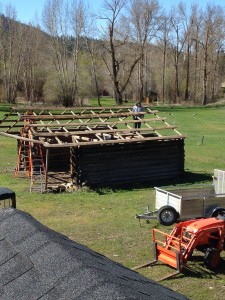 It took forever to find anyone who'd even consider taking a small, off the wall, structural engineering project. While we searched, we went ahead and disassembled the cabin and treated the logs.
Finally, a friend of a friend agreed to write it up after my engineer husband drew up a discreet structure that carries the trusses and that we can bolt the logs to (making the new part nearly invisible). The balance will be hidden by salvaged wood from other long gone buildings. The frame will also support a new sliding barn door (easier to open when there's several feet of snow).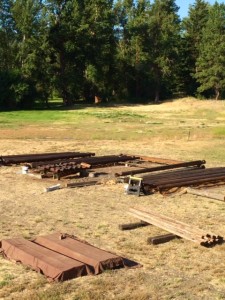 Several months and several checks later, we had the analysis and hubby once more visited the building department.
BD: Ah, this design might work and I see you have the engineering analysis. Yes, I could approve this.
Us: Great! So you'll issue the building permit?
BD: Oh, no. This just approves the engineering analysis. We need this (ream of paper) for the building permit.
Us: Pause…consideration…do we really want to save this (ridiculously expensive) bit of history?
Yes.
Picks up papers and shuffles back to car.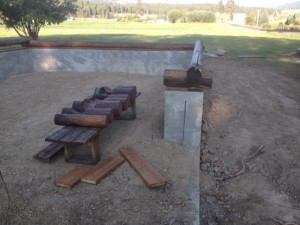 The building department did issue a permit and we're working on the foundation, so hopefully soon I can report back that the cabin is securely stationed in its new position on the farm.
What does any of this have to do with a new release? Nothing that I can think of…unless you talk about structure of a story. Foundations. Perseverance.
Nah.
CYPHER released this week. An early reviewer called it a twisty mystery with a compelling romance, which describes it well.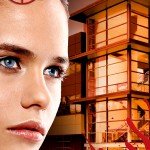 When a hit-man kills the wrong person, a Greenville, SC detective confronts hidden agendas and conflicting motives in a powerful local family, while trying to control his attraction to the intended victim—a woman who should be dead, but instead is hell-bent on saving the remnants of her family.
Unwilling to stand by while her family and world are destroyed, she rips apart the secrets surrounding Cypher, the company her father built—and will take any measures to defend.
This story originally appeared on my group blog, Not Your Usual Suspects – here – with slightly different pictures.