Today I want to offer a warm welcome to Cathy Perkins, an award-winning author (and Golden Heart Finalist) of compelling-yet-terrifying suspense stories and lighter mysteries with a financial twist. After I read The Professor (which was fan-tabulous and kept me up reading all night!), I knew I wanted Cathy to spend the day with us.
Cathy: Good morning Sharon! Thanks for letting me hang out with the Romantic Suspense authors at Kiss and Thrill. I released two books this summer which are shelved as romantic suspense, The Professor (Carina Press) and For Love or Money (Entangled Publishing), but (shh, confession!) mine are really mystery/suspense with a romantic element rather than romantic suspense.
Sharon: That's okay, Cathy. We love all kinds of suspense and mystery stories! When we chatted about this post, you mentioned you write both dark and light stories. Care to explain that comment?
Cathy: Sometimes writing in a different genre (paranormal or YA rather than suspense, for example) will keep ideas fresh for an author. I find writing different kinds of suspense stories stretches me as an author (and hopefully makes me a better one).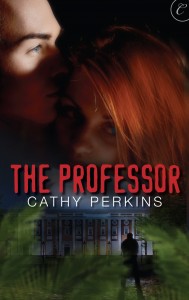 As far as "light" and "dark" suspenses goes, just like romantic suspense has varying degrees of heat between the hero and heroine, mystery/suspense can contain degrees of darkness. All suspense novels have a villain who places the hero/heroine—or the world—in danger and shows the dark underbelly of human nature. Tapping into the inherent conflict between right and wrong, good and evil, makes for some interesting stories. The best ones are page turners that keep you up past your bedtime. Now not all suspense novels keep you awake, afraid to turn off the lights (although a few of Patricia Cornwell's had me wondering if that sound was a house noise or an axe-murderer breaking in—I had to back off of those!), but there's always a sense that Something Really Bad will happen if the heroine doesn't unravel the mystery, find the killer, defuse the ticking bomb or stop the assassin.
Sharon: I can honestly say The Professor kept me up all night worrying about axe-murderers breaking in!  Where do you think the dividing line between "light" and "dark" stories lies?
Cathy: Maybe it's the tone of the story that makes people label a story "light" or "dark," but the protagonist plays a role in the distinction for me. In The Professor, the main character is a state law enforcement agent who matches wits with a serial killer. Mick O'Shaughnessy must stop The Professor before he kills again. Readers tell me the scenes from the Professor's point of view are deliciously creepy. (We are so not delving into anything that might say about me! No axe-murdering!)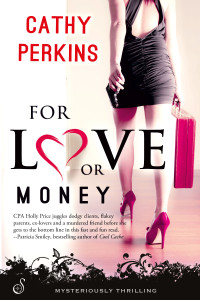 At the other end of the "darkness" scale, For Love or Money, an amateur sleuth mystery, is told from Holly Price's perspective. A CPA (Certified Pain in the Ass according to the killer, and maybe according to the detective on the case), Holly relates to elements in the victim's personal life, giving her a different motivation to ask questions and dig into details that don't add up (in her opinion). She ultimately solves more than one crime, and makes the villain angry enough to come after her in the process.
Sharon: Oh, so the story is light or dark, depending on the POV character? Or is it the emotional tone of the book?
Cathy: Hmm… Good question. While I mentioned that the main character drives the investigation and influences the way that investigation is handled, the emotional depth of the characters is a good indicator of the degree of darkness. I find the emotional depth comes from the characters' inner conflicts, which may include a relationship issue. Maybe that's why romantic suspense is so successful—integrating the external conflict with the relationship issues, drawing the hero and heroine together to overcome obstacles.
But I digress. 🙂
Many mystery/suspense authors completely avoid any relationship in their books. Jonathan King's debut, The Blue Edge of Midnight, is a wonderfully atmospheric (very dark) suspense, whose guilt-ridden protagonist is in as much conflict with himself as he is with local law enforcement. At the other end of the spectrum, I think it's safe to say Janet Evanovich's Stephanie Plum stories don't spend much time on introspection. (Although Stephanie does have a relationship issue or two 🙂 )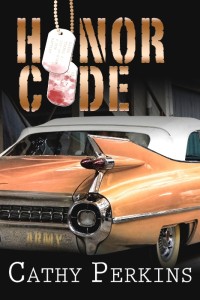 Like many of my favorite mystery/suspense authors, I always include a relationship element in my stories. I say "include" because the relationship (the romance) isn't the primary focus of my books as it is in a romantic suspense. The emotional conflicts—romantic or other personal ones—flavor and complicate life for the main characters. They sharpen external conflicts when the internal conflicts force the main character to change and grow.
Now that I think about it, maybe the "light" or "dark" aspect is how deeply the story delves into the villain's mindset, either directly through POV or indirectly through the investigation. Both draw the reader deep into a life or death situation.
Sharon: I think both of your answers are right. The light/dark issue is played out through the villain's POV as well as the internal conflicts of the hero and/or heroine. But the villain POV scenes are usually what add the extra terror! What prompted you to change from dark suspense to lighter mysteries?
Cathy: I can only write so many dark stories and research really awful things people do to each other before I need to take a break. One of John Douglass' (top FBI profiler) books gave me nightmares. Clearly, it was time to lighten up!
I also find darker stories like The Professor revolve around the actual investigation and the law enforcement officer, which means understanding how the detectives approach a case. Readers, including some from law enforcement, complemented me for "getting it right." (I have wonderful resources; thanks y'all!) The lighter stories allow more latitude. With For Love or Money, Holly can do her thing, while JC's over there doing whatever it is cops do. In her role as friend, confidant, or professionally as an accountant, Holly has access to people and information that would be more difficult for a police officer to obtain. She definitely does things no police officer could get away with.
Sharon: Do you decide ahead of time what type of book you want to write? Or is the type (light or dark) dependent on the characters who show up in your head?
Cathy: I'm drawn to darker stories, wanting to know the "why" behind a villain's motivation as well as enjoying matching wits between my protagonist and villain as the investigation unfolds. It's a choice for me to write something light when I need the emotional break.
I recently finished another dark story which my agent has on submission. I'm supposed to be working on Book 2 for Holly and JC (a sequel to For Love or Money that's under contract) but this really dark story showed up and the characters will not leave me alone…
Sharon: I can't wait to hear more!  And now for one of my favorite part of the interviews–the blurbs.
This post originally appeared at the Kiss and Thrill blog and included excerpts and a giveaway 🙂