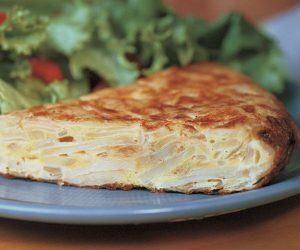 From Tapas to seafood with fabulous stops for jamon (cured ham) and chorizo (sausage), Spain is a delightful culinary adventure. You've undoubtedly tasted gazpacho and paella but when chef Alex Montoya and vintner Sofia Pincelli make magic with Malbec grapes, Alex envisioned a hearty Spanish Ragout. Ragout is a wonderful cold weather dish, so for the summer, Alex recommended one of the many tapas served at his restaurant. Tortilla Espanola (Spanish Potato Tortilla) is always a favorite with his customers, working equally well for breakfast, lunch, dinner or snack—along with a glass of your favorite wine. For dinner or tapas, I pair this dish with a cabernet sauvignon. Novelty Hill makes a lovely medium-bodied red with soft, fruity flavors.
Alex is a secondary character in So About the Money, the first in the Holly Price/So About…series. Alex may have been a bit volatile in that story. His fiery temper clashed with Holly's saner approach to life. He simply needed the right woman to help him become the adult he's capable of being. A bit of nagging from his character led me to write his story—MALBEC MAYHEM. With all the fabulous wineries located in eastern Washington, choosing a rising star vintner to challenge him seemed a natural fit. Alex and Sofia understand the importance of family—including the joys and challenges associated with running a family business. They simply have to figure out a way to make their hot-blooded nature work for them.
Tortilla Espanola
1 cups vegetable oil for frying (Plain olive oil is MUCH better than canola. A great extra-virgin olive oil isn't required)
1-3/4 lb. (about 5 medium) low- to medium-starch potatoes (Yukon Gold, rather than a russet) peeled
12 to 14 oz. onions (2 to 3 medium), diced
5 medium cloves garlic, very coarsely chopped (optional)
6 large eggs
Coarse salt and freshly ground black pepper, to taste
Prepare potatoes and onions: Peel the potatoes and onion and slice them very thin. A mandolin works best, but you can use the slicing blade of a food processor, or slice them by hand. If the potatoes are on the large side, first cut them in a half lengthwise so the slices will be in half-moons.
Cook potatoes and onions: Heat oil in an 8- to 10-inch skillet, ideally nonstick, over medium-high until very hot, about 3 minutes. When the oil is very hot (a potato slice will sizzle vigorously around the edges without browning), gently slip the potatoes into the oil with a skimmer or slotted spoon. Add potatoes and onions (and garlic if using) in even layers and reduce heat to medium-low.
Cook for 10 – 15 minutes, flipping and nudging potatoes around to ensure they cook evenly. Potatoes are done when they are tender when pierced with the tip of a knife. They should not get brown or fall apart in flipping (unless you like your tortillas with softer, more broken-up potatoes, as some do).
Drain potatoes and onions: Transfer potatoes and onion to a colander/sieve set over a bowl and drain them.* Season potatoes and onion with salt and pepper and let cool slightly, about 5 minutes. (Seriously, drain the potatoes in the sieve. Most of the oil is removed by doing that. If you don't have a sieve, use a lot of paper towels in a shallow bowl to absorb the excess oil.)
Drain the oil from the skillet*, reserve at least 1 Tbs., and wipe out the pan with a paper towel so it's clean. Scrape out any stuck-on bits, if necessary.
Make the tortilla batter: In a large bowl, lightly beat eggs with about ¼ tsp. salt and freshly ground black pepper. Stir in drained potatoes and onions. If you have 10 minutes, definitely let them soak together for that long; it makes a difference in how well the final tortilla stays together. If you're in a rush, it's not going to ruin the dish if you skip that step.
Cook the tortilla: Add 1 tablespoon of the drained cooking oil* (back to the skillet over medium-high heat. Let the pan and oil get very hot (important so the eggs don't stick), and then pour potato mixture into the skillet. Flatten the potatoes with a spatula until they're mostly even. Cook for 1 minute and then lower the heat to medium-low.
Cook, moving and shaking the skillet and nudging the egg around (so it runs underneath) for a minute before letting the tortilla cook undisturbed until the eggs are completely set at the edges, halfway set in the center, and the tortilla easily slips around in the pan when you give it a shake, 8 to 10 minutes.
Loosen the tortilla with a spatula then slide it onto a large dinner plate. (Use a flat, rimless plate that's at least as wide as the skillet.) With your hands in potholders, invert the skillet over the plate, take a deep breath, and flip it back into the skillet. Once the tortilla is back in the pan, tuck the edges in and under (to neaten the sides).
Return the skillet to the stove and cook tortilla to your desired doneness, another 2 to 3 minutes if you like an ever-so-slightly loose center; 4 to 5 minutes (or until a toothpick inserted into the center comes out clean) for full doneness.
Serve: Transfer the tortilla to a serving platter and let cool at least 10 minutes. Serve warm, at room temperature, or slightly cool. Cut into wedges or small squares, sticking a toothpick in each square if serving as an appetizer. Add a dusting of smoked paprika and/or squiggle of aioli or mayo if desired.
* Save the rest of the cooking oil in the refrigerator for future tortillas, or eggs, or potatoes, or anything you want to cook with a faint onion infusion flavor. (Think about the $20 bottle of infused oil you saw at the specialty shop!)
Originally posted with Killer Crafts & Crafty Killers