For most authors, marketing is the least favorite part of publishing. Several weeks ago, on my mystery author loop, someone asked for suggestions about running a promotion campaign. I don't pretend to be an expert, but since I had an upcoming new release, I volunteered to share my experience.
Many of my friends write romance and I wondered whether their sales strategy would translate to mysteries. I also didn't want to drive myself insane with marketing/promo.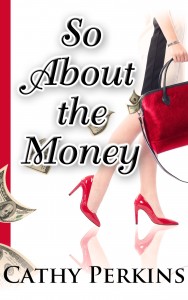 So About the Money released two weeks ago.
I set up the following as a "plan"
1) I stacked a series of ads for release week:
BKnights at fiverr was a complete bust. (Romance seems to work pretty well with him.) It was the only day during release week that sales decreased. He claims he will give you a refund if you don't get a positive result. I requested a refund which he has so far ignored.
ENT – $45; my best results. I popped up to around 2000 overall at Amazon and into the upper levels on the three genre lists.
Kindle Nation Daily & Book Gorilla slide-over – a major disappointment. This was my most expensive ad ($100) and usually the BG slide over is a day or two later. They ran them the same day.
Free Kindle Books – at only $25, this produced the same number of sales as the more expensive KND ad.

I tried a new site this week (week 2), attempting to gain some exposure on the international sites: ebook bargains uk; only about $10 but pretty much a non-event.
I saw nice daily bumps from:
Book Release Daily
eBookstage
HBS Mystery Readers Circle
These three spots were free – they do pick and chose which books to feature.
Robin Reads turned me down and several of the ad sites aren't available to new releases unless you rounded up a lot of reviews with ARCs. My bad. I didn't do this.
2) I did a daily meme post to a Facebook group, twitter and G+ community
Note – ONE post a day at each site. Do not turn into a spammer!
This was actually a lot of fun and I love Canva.com. While doing my final read through of the book prior to release, I made a list of snippets which reflected some aspect of the story. I created a daily meme with a picture supporting one of these snippets. Friends and strangers (A BIG thank you to all of the people who shared it!) retweeted, liked and commented. By using a bit.ly shortener I could see which posts got click throughs.
Takeaway?
At the end of two weeks, with the second using only the daily posts, So About the Money is still sitting around 4-5000 at Amazon overall and is still in the top 100 of the genre lists.
A series of ads for visibility is awesome for building traction. Having a social media presence without being a complete pain is great for keeping the ball rolling.
Friends had told me promo was a waste of time until I had at least 4 books released. As usual, my more experienced friends were right. As we slide into week 3 post-release, all of my other books are showing upticks in sales.
Hope this is helpful