Way back in the dawn of time, I made the silly decision to not only participate in NaNo (National Novel Writing Month) but to also join the Entangled Smackdown on Savvy Authors. In one of life's balances to What Was I Thinking? that Smackdown introduced me to some fabulous people who were also terrific writers. One of those women was Teri Stanley, who made us laugh with the Tale of the Cat Blanket.
Today is release day for Teri's debut story – Deadly Chemistry, released by Entangled Publishing's Ignite imprint. I had the pleasure of reading random early scenes and jumped on the chance to review an Advance Reading Copy. And it's fabulous!
Here's the scoop:
DEADLY CHEMISTRY
By Teri Anne Stanley
Sex, Lies, and Science Geeks, # 1
Some chemical reactions generate too much heat…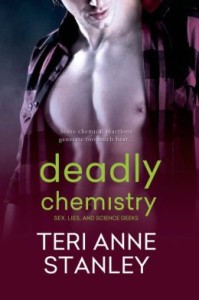 Former undercover cop Mike Gibson has been lying low, working as a maintenance man to put his troubled younger brother through college. But when a beautiful scientist enlists Mike's help to repair the damage done to her lab by a group of vandals, Mike finds that his, and his brother's pasts, are about to be brought to light.
Laura Kane was happy having a secret crush on the hot maintenance man at Tucker University, but when the drug she was studying is stolen, Laura has a chance to get to know Mike in person. The problem is, he seems to know more about what's going on than any maintenance man should. But then the drug turns up in the wrong hands, and Mike and Laura have to decide if their own chemistry will help, or hinder, the race to save innocent lives.
Available at Amazon, Barnes & Noble, Kobo and other online retailers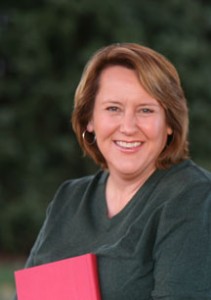 Teri Anne Stanley has been writing since she could hold a crayon–though learning to read was a huge turning point in her growth as a writer. Teri's first stories involved her favorite Saturday morning cartoon characters, followed by her favorite teen idols. She has also authored a recipe column (The Three Ingredient Gourmet), and scientific articles (Guess which was more interesting!). Now she writes fun, sexy romance filled with love, angst, and nekkid parts.
Teri's career has included sex therapy for rats, making posing suits for female body builders, and helping amputee amphibians recover to their full potential. She currently supplements her writing income as a neuroscience research assistant. Along with a variety of teenagers and dogs, she and Mr. Stanley live just outside of Sugartit, which is—honest to God—between Beaverlick, and Rabbit Hash, Kentucky.
You can find Teri at her Author Website or hanging our on Twitter