By Debra H. Goldstein
I can't cook. In fact, my efforts in the kitchen are so bad that if I make dinner two nights in a row, my husband firmly suggests going out on the third night. When he was in second grade, my son flunked a sequencing reading test. He identified the first picture of the family sitting down for a meal and the second picture of the family eating correctly, but when shown the third picture, which required one to say, "the family is getting up and clearing the table," he answered, "the family is getting up to pay the bill."
Crafts and I rarely get along. The only way I'd agree to be my daughter's Brownie/Girl Scout leader was if someone, other than me, handled the artsy crafty things. It worked because I was great at organization while other mothers were creative with wool, paper, wood, and anything else you can imagine.
I bet you're asking yourself why and how did an individual who lacks cooking and craft skills come to write a cozy mystery? Simple, I like them. That's why when I decided to write one, I analyzed how I could write something that usually had a protagonist with culinary or craft skills. My original attempts resulted in boring words on the paper. I realized I couldn't fake it. I also concluded there had to be other cozy readers more like me than most of the protagonists in the book. Once I reached that conclusion, I knew exactly what the protagonist in One Taste Too Many had to be – a cook of convenience who was never perfect at things she tried to do.
That is how Sarah Blair was born. Her skills in the kitchen are lacking and she knows nothing about crafts. Her twin sister, Emily, a trained chef, is her polar opposite. While Emily makes spinach pie from scratch, Sarah, the cook of convenience, uses Stouffer's creamed spinach souffle. Emily wouldn't be caught dead using prepared ingredients, Sarah thrives on bringing take-out in or taking short cuts. Does it tell you something that two of Sarah's favorite cookbooks are Peg Bracken's The I Hate to Cook Book and The Appendix to The I Hate to Cook Book.
I like Sarah Blair. She's vulnerable and honest, especially about her cooking and craft skills. That to me is what makes her a good protagonist. In One Taste Too Many, one of the throwback recipes she finds is Jell-O in a Can. Can you suggest any other simple throw-back recipes she might use in the future? (Leave a comment for a chance to win a print or e-copy of One Taste Too Many – your choice in the U.S./e-book outside the United States)
Blurb: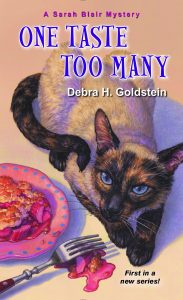 For culinary challenged Sarah Blair, there's only one thing scarier than cooking from scratch—murder!
Sarah knew starting over after her divorce would be messy. But things fall apart completely when her ex drops dead, seemingly poisoned by her twin sister's award-winning rhubarb crisp. Now, with RahRah, her Siamese cat, wanted by the woman who broke up her marriage and her twin wanted by the police for murder, Sarah needs to figure out the right recipe to crack the case before time runs out. Unfortunately, for a gal whose idea of good china is floral paper plates, catching the real killer and living to tell about it could mean facing a fate worse than death—being in the kitchen!
One Taste Too Many Buylinks:
Amazon Barnes & Noble
About the Author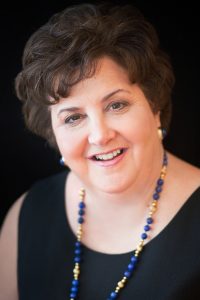 Judge Debra H. Goldstein is the author of One Taste Too Many, the first of Kensington's new Sarah Blair cozy mystery series. She also wrote Should Have Played Poker and 2012 IPPY Award winning Maze in Blue. Her short stories, including Anthony and Agatha nominated "The Night They Burned Ms. Dixie's Place," have appeared in numerous periodicals and anthologies including Alfred Hitchcock Mystery Magazine, Black Cat Mystery Magazine, and Mystery Weekly. Debra is president of Sisters in Crime's Guppy Chapter, serves on SinC's national board, and is president of the Southeast Chapter of Mystery Writers of America.
Find out more about Debra at www.DebraHGoldstein.com .