By Dana King
Debating noir vs. hard-boiled is a popular panel subject at conferences. I think it's a false choice. Noir is a genre, a type of story; hard-boiled is a writing style. Much noir is hard-boiled, but it doesn't have to be. If we consider noir to be a story where the protagonist comes to a bad end, often through his own ill-considered actions, then Hamlet is noir, as is Richard III. Shakespeare's writing was a lot of things; hard-boiled was not one of them.
I've struggled for years with hard-boiled as a description of my writing. Not that I take it as a pejorative; far from it. It's used as a compliment far more often than not. It's the term itself I don't care for. Strikes me too much of dames and gams and gats and yeggs and things that were written for pulps by writers who were often more interested in being pulpy than good.
I was on one of the panels mentioned above when moderator Ted Fitzgerald used the term I like best: tough. "Hard-boiled" too often shows evidence of the effort the author put in to make it so; "tough" just is. Not that I always achieve that, but the real work is in expending as little effort as possible to write what seems natural. That's not to say one types up a first draft and sends off whatever dreck results. The heavy lifting is shaping that first draft into something worth reading while retaining the seeming effortlessness that comes with whatever your imagination brought to mind, warts and all; removing the warts while leaving no visible scars.
My favorite and most durable quote about writing, my go-to quote when I feel I'm missing the voice, is from James M. Cain:
I make no conscious effort to be tough, or hard-boiled, or grim, or any of the things I am usually called. I merely try to write as the character would write, and I never forget that the average man, from the fields, the streets, the bars, the offices and even the gutters of his country, has acquired a vividness of speech that goes beyond anything I could invent, and that if I stick to this heritage, this logos of the American countryside, I shall attain a maximum of effectiveness with very little effort.
You can't try to write like anything or anyone. That's what it will sound like: trying. It's easy to spot writers who have spent little or no time with working-class men in bars when they try to craft dialog for working-class men in a bar. What I object to most strongly in what I call "bestseller style" is dialog that reads like how people think other people talk instead of how people actually talk. That's why I'll never write a book (or even a scene) about teenaged girls talking among themselves; I don't know what teenaged girls say among themselves when I'm not around and I'm pretty sure I don't want to. I could take a guess. Might even get away with it until one of two things happens:
Someone who actually does know reads the book;
Anyone who has read Megan Abbott reads it.
It's a losing proposition for me, not unlike Danny DeVito playing volleyball or Tom Waits singing opera. Both men are substantial talents, just not in those fields.
Not that I am particularly tough, either, but I grew up working class and almost literally in a bar. My mother worked as a cook and sometimes had me behind the bar in a bassinet when I was an infant if her work schedule didn't quite mesh with Dad's. In high school when I needed a car for something and Mom and Dad both worked evenings, I'd drop Mom off and met Dad and his friends at the bar to leave a car for Mom. Dad and the boys drank a few beers and I drank a couple of Cokes and got a truly immersive experience in bar talk.
It's plain-spoken language with rough humor and not all that concerned if someone's feelings are ruffled; those with excessive sensitivity can drink at home. We call it bullshitting, but actual bullshit is rapidly and sometimes pointedly called out. It's a euphemism-free zone. People don't drink too much; they're drunks. They don't pass; they die. They may even fucking die. It's not language for the faint of heart, but neither is it put on. It is what it is.
Tough.
This blog was cross posted to Do Some Damage a group blog with an inside look at crime fiction.
*  *  *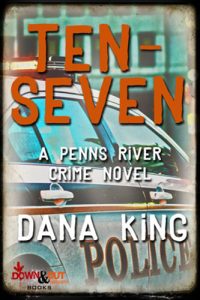 Dana King has earned Shamus Award nominations for two of his Nick Forte novels, A Small Sacrifice and The Man in the Window. He also writes the Penns River novels, of which the fourth novel in the series, Ten-Seven, releases from Down & Out Books.
His work has appeared in the anthologies The Black Car Business, Unloaded 2, The Shamus Sampler 2, and Blood, Guts, and Whiskey. You can get to know him better on his website, blog, or Facebook page, which he promises to update more often.