By Edith Maxwell
How does a new series come about?
When my agent said my editor at Kensington Publishing would be happy to consider a new cozy series written by my alter ego, Maddie Day, I was delighted. Why as Maddie Day and not Edith Maxwell? My Country Store Mysteries written under that name sell toward the spectacular end of the spectrum and he wanted to leverage that success.
But then…hmm, where to set it? Who would the protagonist be and what would she do for work? What secrets would she have? Who would her cast of regulars be? For someone like me with an overactive imagination, the prospect of inventing a new world was almost overwhelming.
First I came up with another good Midwestern setting. I homed in on western Illinois on the Iowa border, with the Mississippi River running through town. The area has interesting history and geography. I created a whole-grains baker, her family and friends, and a plot for the first book. I found some comparable titles and sent the proposal off to my agent. And then…my agent nixed the setting and the baker! Rats.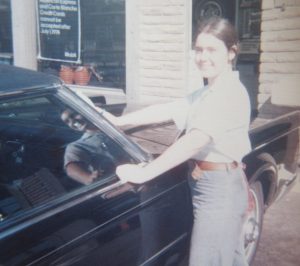 Next I floated a different idea with him before I did all that work. I wanted to leverage what I learned during my first full-time job at age 22, working full time at a Mobil gas station on Highway 1 in Newport Beach, California. I worked my way up from pump jock (wearing my Mobil shirt with Edie embroidered on the pocket) to doing tuneups. I know analog cars, and I love the simplicity and beauty of their engine compartments. Those kinds of cars really last in California.
So I dreamed up a female auto mechanic in a fictional town near Santa Barbara who only works on cars made before 1970. That is, on engines that don't have computers or electronics in them. The mechanic's name is Jamie Jullien and her father, who trained her, left her JJ Automotive, her repair shop. She lives in an adobe house in an old orange grove. She has a sidekick best friend who is a single mom. Car owners from all over the region, including from the high-income enclave of Montecito just to the northwest, (where Sue Grafton lived) bring her their cars to maintain.
Wouldn't you want to read the Vintage Car Mysteries? Agent approved, I wrote the proposal, and we sent it to my editor. Who said…"It's not a cozy." Wha? Yes it is! Just because Jamie works on cars and not quilts? I wanted a unique occupation for my cozy protag. I wanted to set a series back in my home state. It was amateur sleuth, village-based, the cozy works. Heavy sigh. [NOTE: Don't nobody even think of stealing that premise – I'm determined to write it one day.]
But…he's the senior editor at Kensington and I didn't want to turn down the offer of a new series. This time I had my agent just ask him: "What are you looking for?" When "Something on Cape Cod" came back, I smiled and nodded to myself. For several years I've been renting a Quaker retreat cottage in West Falmouth during off season for solo writing retreats. I walk on the Shining Sea Trail. I poke around Falmouth's shops and restaurants and watch the ospreys over Chapoquoit Beach. Yeah, I could do a series set on the iconic Cape.
And voila! Murder on Cape Cod is the first in the Cozy Capers Book Group Mysteries.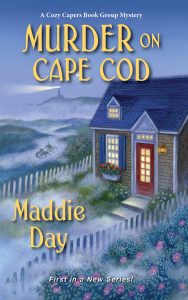 Summer is busy season for Mackenzie "Mac" Almeida's bicycle shop, nestled in the quaint, seaside hamlet of Westham, Massachusetts. She's expecting an influx of tourists at Mac's Bikes; instead she discovers the body of Jake Lacey, and her brother soon becomes a suspect. Mac's experience with murder investigations is limited to the cozy mysteries she reads with her local book group, the Cozy Capers. To clear her brother's name, Mac has to summon help from her book group co-investigators. For a small town, Westham is teeming with possible killers, and this is one mystery where Mac is hoping for anything but a surprise ending.
I loved inventing Mac and her bicycle rental and repair shop. I added her father, the UU minister, her mom, a quirky astrologer, her tiny nosy grandma, and her half-brother, single dad to a four year old girl. The Cozy Capers members are the rest of the cast. They include shopkeepers, a head librarian, the town clerk, and more. Mac's boyfriend is a hunky baker, and the touristy town plays a big part, with its soup kitchen and food pantry to help out needy year-round residents.
The book released December 18 in a paperback exclusive from Barnes & Noble. It will re-release a year later in all formats on all platforms. In the meantime, I'd love to give away a signed copy to one commenter here today.
Readers:
Where's your favorite waterside getaway? Do you ever rent bikes and ride along the shore? What about book groups? Love 'em? Hate 'em? Dish!
[Note: a version of this post first appeared on Jungle Red Writers in December.]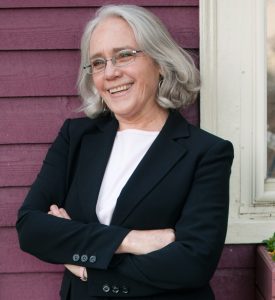 Agatha- and Macavity-nominated Edith Maxwell writes the Quaker Midwife Mysteries, the Local Foods Mysteries, and award-winning short crime fiction. As Maddie Day she writes the Country Store Mysteries and the Cozy Capers Book Group Mysteries. Maxwell lives north of Boston with her beau and two elderly cats, and gardens and cooks when she isn't wasting time on Facebook.
Please find her at the Wicked Authors, on Killer Characters and her web site, and on social media: