Occasionally, it's fun to bring a special offering to y'all. The DEATH AND DAMAGES Mystery and Thriller Boxed Set is only available for a short time!
DEATH AND DAMAGES
Danger lurks around every corner as these courageous cops, adventurous agents, and daring detectives hunt for the answers to stop the crimes by vicious killers.
But what if the damage is already done?
In this collection, readers will find 24 brand new adventures full of captivating conundrums, hair-raising homicides, and suspenseful secrets from today's USA Today & Wall Street Journal bestselling and award-winning authors.
Become a private investigator yourself when you inspect plots of deadly assassins, cold-blooded killers, and bone-chilling suspense inside the pages of DEATH AND DAMAGES, an enthralling mystery and thriller boxed set.
Available from these retailers:
COZY MYSTERIES, THRILLERS, DETECTIVE DRAMAS AND MORE! THERE'S SOMETHING FOR EVERYONE. TAKE A PEEK
EXCLUSIVE TO DEATH AND DAMAGES
Mystery and Thriller Boxed Set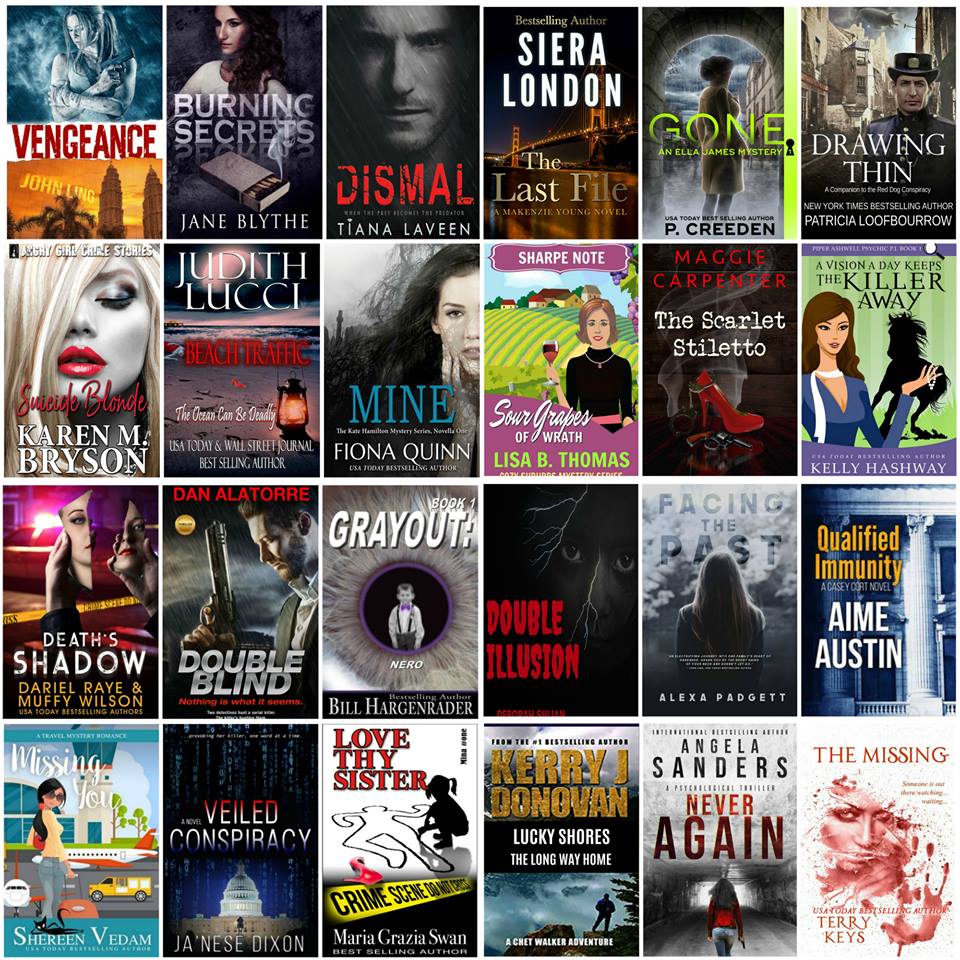 Death's Shadow by Dariel Raye & Muffy Wilson
How far would you go to bring your twin's killer to justice
Lucky Shores The Long Road Home by Kerry J Donovan
When newly-qualified doctor, Chet Walker, rescues two children from their abusive father, he puts at risk everything he holds dear.
Suicide Blonde by Karen M. Bryson
She's not a police detective, but she played one on television, and now she must solve her sister's murder.
Double Blind by Dan Alatorre
Two detectives hunt a serial killer, but the killer's hunting them.
A Vision A Day Keeps the Killer Away by Kelly Hashway
For psychic P.I. Piper Ashwell, seeing isn't always believing–and she's running out of time to piece together the clues before this kidnapping turns into a murder.
Facing the Past by Alexa Padgett
A childhood tragedy. An unsolved murder. In the quest to rewrite her family's past, Danielle Patterson could lose her future.
Drawing Thin by Patricia Loofbourrow
In a city controlled by the Mob, when the choice is to play by the rules or save a child's life, even a good cop can be pushed too far.
Dismal by Tiana Laveen
The prey becomes the predator when Dr. River Michelet serves a bit of street justice. Welcome to South Bend, Indiana, where the people are nice, the accents are Midwestern, and the killers are the 'boy next door.'
Never Again by Angela Sanders
She fought to leave her past behind her, but for Charlotte, there is no escape.
Double Illusion by Deborah Shlian
A reporter and the nurse he loves put each piece of a deadly puzzle into place while a terrifying secret waits in the shadows…
Vengeance by John Ling
She will stop at nothing to find her father's killer…
Burning Secrets by Jane Blythe
They each had secrets; one of those secrets got them all killed
Grayout by Bill Hargenrader
Sometimes imaginary enemies are the most deadly.
The Scarlet Stiletto by Maggie Carpenter
Manhattan: 1938. A blonde bombshell walks into the office of a private detective. In her hand, a bloody stiletto. Did the mob kill her gangster husband, or did she?
Veiled Conspiracy by JaNese Dixon
He's provoking her killer, one word at a time.
Missing You by Shereen Vedam
A wild hunt is on to find a missing cat and retrieve an ancient stolen jewel.
Beach Traffic by Judith Lucci
A college reunion on the Outer Banks of North Carolina turns deadly when a woman is found murdered and five others are reported missing.
Sharpe Note: Sour Grapes of Wrath by Lisa B. Thomas
You're never too old for a midlife crisis.
Mine by Fiona Quinn
A sleepy town in southwest Virginia wakes up to a nightmare of untimely deaths.
Gone by P. Creeden
With a new job in a small town, Ella thought she could get away from big crime. She was wrong.
The Last File by Siera London.
A killer's last move. A detective's last chance.
The Missing by Terry Keys
Someone is out there waiting… watching…
Qualified Immunity by Aime Austin
One thread pulled, everything unravels.
Love Thy Sister by Maria Grazia Swan
Mina Calvi's idyllic life in a California mansion came with a price. And now the grim reaper is here to collect.