Note – we're continuing the #MysteryExchange, so I'm happy to welcome Christa Nardi to the blog talking about mysteries and M&Ms. I hope you'll jump over to Christa's blog and check out my post there!
Mysteries and M&Ms
By Christa Nardi
When I tell someone I like mystery novels or I write mysteries, I am quickly reminded that 'mystery' comes in a lot of variations, just like M&Ms.
Think about it. Like plain milk chocolate M&Ms, there's always a main character, but that varies by gender or gender identity, animal or human, child or adult, and if adult, whether the person is in law enforcement, security, a private detective, or an amateur sleuth. The next level is the crime – theft, murder, serial killer, with or without nuts. Now add in the setting – small town, a winery, the south, the country, you name it. And just like M&Ms, new settings can pop up and add another twist. Imagine all the varieties of mystery like bowls of M&Ms. What's your favorite?
Me, in M&Ms, I'm partial to the dark chocolate – with or without the peanuts. In mystery, I especially like mysteries with strong, smart, female sleuths – amateur or detective. For a quicker and lighter read I choose humorous mysteries or a cozy. I like cozy mysteries with the small town feel and the relationships, minimum graphic violence, limited profanity, and no graphic sex. I also like police procedurals, courtroom, and legal contexts. I enjoy a good romantic suspense. Though I can't say I've yet to find a variety of M&Ms I didn't like, you won't find zombie or erotic mysteries on my TBR list.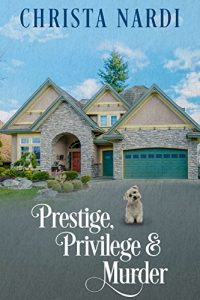 Given all that, it is not a stretch that I choose to write mysteries with a strong, well-educated, female protagonist, set in a small town with a few close friends, limited violence, and sex off stage. I label most of what I write as "cozy mystery." More recently, though, a reviewer commented the first in my new series (Prestige, Privilege & Murder: A Stacie Maroni Mystery) : "… crossed the line a bit taking it to a whole new level by sub-plotting the story around domestic violence…"
Certainly, the next in the series continues to cross that line – Foundation, Funny Business & Murder is scheduled for release the end of September. Every once in a while, whether the latest variety of M&Ms or a mystery novel, taking a walk on the wild side may be just the thing.
You can find Christa Nardi:
Facebook: https://www.facebook.com/christa.nardi.5
Twitter: https://twitter.com/ChristaN7777
Bookbub: https://www.bookbub.com/authors/christa-nardi
Monthly Newsletter: http://smarturl.it/NardiNewsletter
Blog: https://christanardi.blogspot.com