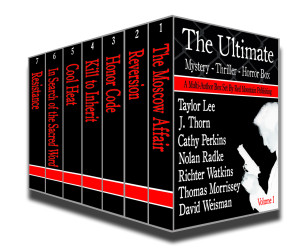 Have you noticed all the boxed sets featuring multiple authors? I started seeing them on Amazon a few months ago and thought it would be exciting to be involved with a great group of authors in a boxed set.
As some of you know, I've started promoting with the Indie Book Collective in their Free Par-Tays and cross-promotions. Until now, promotion has focused on our own book. In boxed sets there's a much closer connection—a mutual effort.
I've wondered, if everyone promoted one unit would it make a difference? I paid attention to other collections and was pleasantly surprised to see they were doing very well indeed.
So when a couple of the members from our group decided to published three of the boxed sets, I not only ended up in one of the boxed sets, I ended up producing all three!
Now I'm proud to share with you that we have three boxed sets available, including wonderful award-winning authors, many Amazon best-sellers, and the most exciting bit of news is this…
For a limited time only, the boxes are priced at only $0.99
It's a sweet bargain, so grab your copies now.
You might want to check on these sets periodically to see the how the set perform. Right now they are all in the Amazon Top 100 for their respective category's Anthology and The Mystery/Thriller/Horror Box is at #7!