I'm thrilled to welcome Eve Devon to the Muse today. Eve is my "release mate" at Entangled Publishing. Both of us released suspense books a few weeks ago and have cheered each other on as we deal with the whirlwind of promo surrounding a new release. As we chatted, we dicovered both of our stories featured a strong connection to the story's setting. Intrigued by the idea of two authors on two sides of the Atlantic joined by so many common elements, we decided to host each other for a guest post, focused on "location!"
So please welcome fabulous suspense author Eve Devon to the Muse!
Thank you so much for having me here today. As a reader I love getting to "visit" places I've never been to without feeling like I'm being given a geography lesson. And as I writer I love discovering how setting can lend an extra dimension to a suspense story.
When I began writing The Waiting Game I knew my heroine Brooke was living somewhere where she could get away with going through the motions and where she didn't really have to engage with the world. Her psycho-stalker Andre Spinks had been placed behind bars after a very public trial and she needed to be where the press and paparazzi couldn't endlessly feed off her—somewhere she could heal.
I chose France because it's a hop across the English Channel. Close but very different. Chateauroux is a town in the Loire Valley, two hours outside of Paris. It's busy enough that I could imagine Brooke quietly and anonymously blending in; living semi-isolated on the outskirts of town, surrounded by greenery, in a simple white rendered stone farmhouse.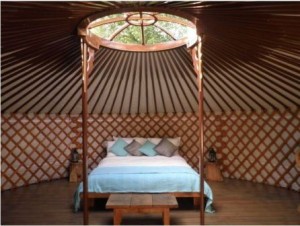 When Cam shows up to tell her Spinks has been released from prison, he knows Spinks will want to get at her again. Having failed, in his eyes, to protect her the last time, there's no way he's going to fail to protect her this time. For Cam it's simple: get Brooke somewhere completely unconnected to her and anyone who knows her; someplace safe where they can wait the situation out. Did I mention France is a really large country? Cue driving for hours to a place just outside Biarritz…and throw in a little glamping, What? Camping isn't very; well, glamorous, is it? But wouldn't you love to stay in one of these.
Unless you were waiting… And the waiting was getting to you. Then, no matter how open the space, you'd still feel trapped. The long days that carried in the warm breeze would start to feel suffocating—which is why Brooke prepares to show Cam she can be trusted to go back to London and bait her stalker into action so that they can get him back behind bars. Simple restrained luxury. A beautiful wildflower meadow surrounded by apple orchards. A little al fresco dining—maybe some al fresco showering! Warm spring days with skies full of cotton-wool clouds. And with no street lamps and buildings to interrupt, you'd be able to stare up at the midnight-blue sky at night, focus on the blanket of stars and feel free.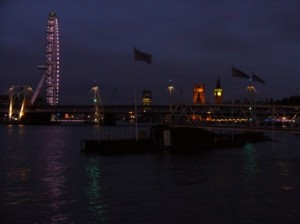 I love London! Yes, the celebrity culture is rife—but it's rife against a wonderfully clashing backdrop of amazing historical buildings and modernity. New buildings in the City aren't allowed to encroach on sightlines of landmark historical buildings. Nothing is uniform and individuality is celebrated. It's sprawling, cosmopolitan, bustling, noisy and most of all, alive. And if you have the money, you can stay in hotels like The Savoy, which is just the type of hotel I imagined Brooke and Cam staying in. A hotel like The Savoy literally rebuilds its suites to suit the needs of the guest. Rooms are filled with elegant antiques and service is everything. The list of people who have stayed there is mind-boggling! If you're famous and want to be seen you go in through one entrance and if you're famous and don't want to be seen by the waiting paparazzi you get in another way.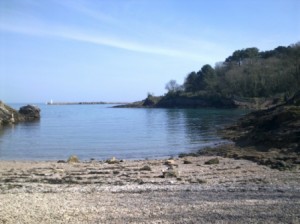 But for my heroine Brooke, returning to this heaving metropolis is difficult. She does it because she wants to be strong. She wants to
fight. She's through waiting for her life to begin again. Being surrounded by the press and paparazzi is a necessary evil and drawing her stalker out works—with very frightening consequences.
When Cam realizes that being holed up in a swanky London hotel is just prolonging the agony for Brooke he makes the decision to take her to her friend on the South Devon coast.
I imagined Megan McGuinness renovating an Italianate Villa (the typical style of large coastal Devonshire house) and that it would look out onto a private beach just like this one.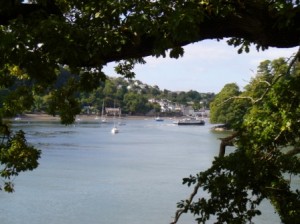 The South Devon Coast is beautiful and Torbay, one of its boroughs, is referred to as The English Riviera. The area is surrounded by stunning coast and countryside and is most famous for being where Agatha Christie grew up.
From the stunning coastline you can walk inland along the River Dart…
To here…Agatha Christie's holiday home "Greenway"!
As a writer who grew up reading Agatha Christie – this is one of my all-time favorite places to visit! She bought this house as a summer retreat and used to hold parties for all her friends. As you walk around the house you can hear recordings of interviews with her and (my fave) see closets filled with what she used to call her "Dress-up clothes"—gorgeous exquisitely beaded 1930's gowns for the women and sexy tuxedos for the men. Let the murder-mystery weekend commence! You can arrive at the house via a river boat and look around the boathouse that she used to spend summer days writing in.
I spent my week-long holiday doing revisions for The Waiting Game in a hotel in Torbay. The view was incredibly inspiring but eventually I had to return Cam and Brooke to London to finish The Waiting Game.
 ***
Author Bio: Eve Devon writes sexy heroes, sassy heroines & happy ever afters…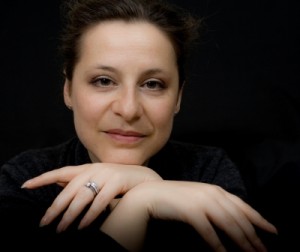 Growing up in locations like Botswana and Venezuela gave Eve Devon a taste for adventure; her love for romances began when her mother shoved one into her hands in a desperate attempt to keep her quiet during TV coverage of the Wimbledon tennis finals!
When Eve wasn't consuming books by the bucketload, she could be found pretending to be a damsel in distress or running around solving mysteries and writing down her adventures. As a teenager, Eve wrote countless episodes of TV detective dramas so the hero and heroine would end up together every week. As an adult, still hooked on romance and mysteries, she worked in a library to conveniently continue consuming books by the bucketload, until realizing she was destined to write contemporary romance and romantic suspense herself.
Visit Eve at her website: www.EveDevon.com
About The Waiting Game:
Five years ago a madman stalked her. Kidnapped her. Tattooed her.
W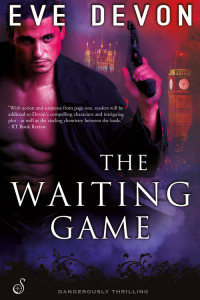 hen security expert Cameron Dexter—the man Brooke Bennett once loved—appears unexpectedly at her door with terrifying news, the former musician discovers she can no longer hide from her past. After five years, her vicious kidnapper is out of prison and on the hunt—for Brooke.
Now he's returned to complete his art.
Cam failed to protect Brooke once before. Now he'd rather die than let her be captured. With her life at stake, Cam vows to keep her hidden and safe. Brooke, however, is done with running. Unlike Cam, she wants to stand and fight. Emotions both old and new roil between them, but addressing their heated past must wait. Together they set a trap in London to catch a killer. But they soon discover the enemy wears many faces…
And waiting is no longer an option.
Available at Amazon Barnes&Noble and Itunes
Originally posted to my group blog, Blame It On The Muse